Get ready to indulge in the latest food craze – deep-filled sandwiches! Overflowing with sauce and jam-packed with contrasting textures and flavours, these extravagant creations are redefining the meaning of the humble sandwich.
These mouth-watering sandwiches are a must-try for anyone who loves great food. So jump on the bandwagon, and join us in exploring the exciting world of deep-filled sandwiches in the food industry.
World Flavours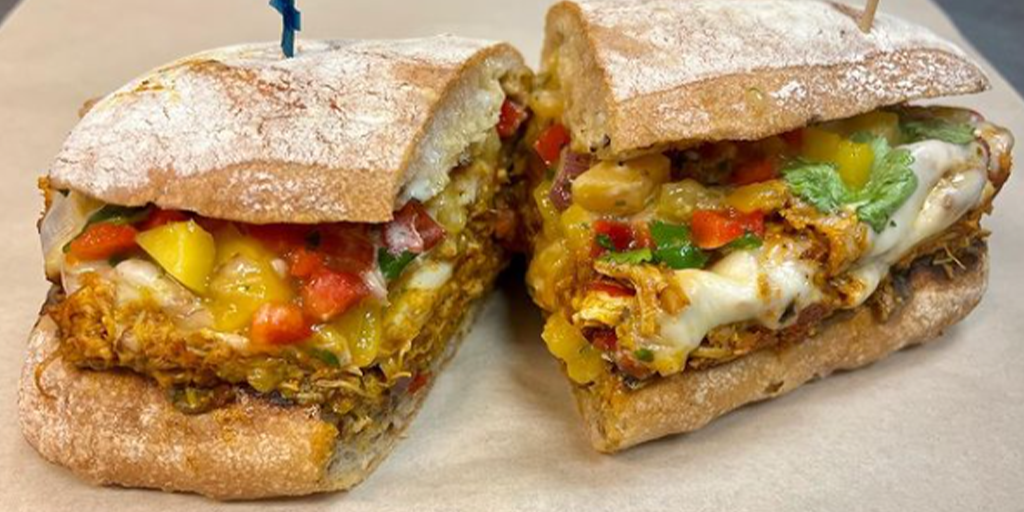 Chefs are taking inspiration from all over the world to create mouth-watering deep-fill sandwich combinations that strike nostalgia and familiarity – the only difference is the flavour is inside two bits of bread (or a roll… or a wrap).
Mexican – The Torta is a Mexican sandwich traditionally served on a small baguette-style roll or flat soft roll called a telera. It's incredibly popular in the USA now, deep-filled with favourites like fried chicken, guac, chillies, Oaxaca cheese and tomato and onion salsa.
Inspiration: Achiote grilled chicken with melted Oaxaca cheese, chipotle black bean spread, tequila-lime aioli, fresh mango salsa, Devil's Dill Sandwich Shop, San Francisco.
Korean – Kimchi is one of the main ingredients here, but so is gochujang, crunchy slaw and, of course, Korean pork.
Inspiration: Korean pork shoulder sandwich, Lardo, Portland. Marinated chicken, gochujang chilli & garlic mayo, cabbage, carrot & herb coleslaw on a warm panini, Small's Deli, Sydney.
Chinese – Chinese flavours are all over the deep-fill sandwich landscape. Think Char Siu pork, orange chicken, mapo tofu, and of course, a little chilli heat.
Inspiration: Vegan devil's map tofu sandwich, Papirica Café, Australia. Char Sui bloomer with cucumber slaw, Breadbelly, USA.
Eastern Mediterranean – Falafel, shawarma, spiced lamb and Za'atar chicken or tofu, are all popular flavours, usually accompanied by garlic yoghurt, feta and pickled vegetables. We usually mop up the goods with flatbread, but here, it's in the bread already.
Inspiration: Za'atar spiced chicken, turmeric yoghurt, avocado, cucumber, red onion, pepperoncini, feta cheese and greens, E Stretto, USA. Moroccan style spicy lamb, sweet piquillo peppers and greens, Fox Face, USA.
Italian – Italian sandwich shops are popping up all over the UK, especially in cities like London and Bristol. Italians have been serving deep-fill sandwiches for decades, stuffed with oozing mozzarella cheese and salty cured meats.
Inspiration: Gran biscotto ham, provolone cheese, lettuce, red onion, pesto cream and hot sauce, Alidoro, NYC. Italian style baguette with four meats, two cheeses, salad and slaw, Sal, Kris and Charlie's Deli, USA.
And finally, don't be afraid to add a little spice! Think Indonesian chicken, crunchy spicy slaw, chilli honey glaze – keep it bold but balanced.
Tradition and nostalgia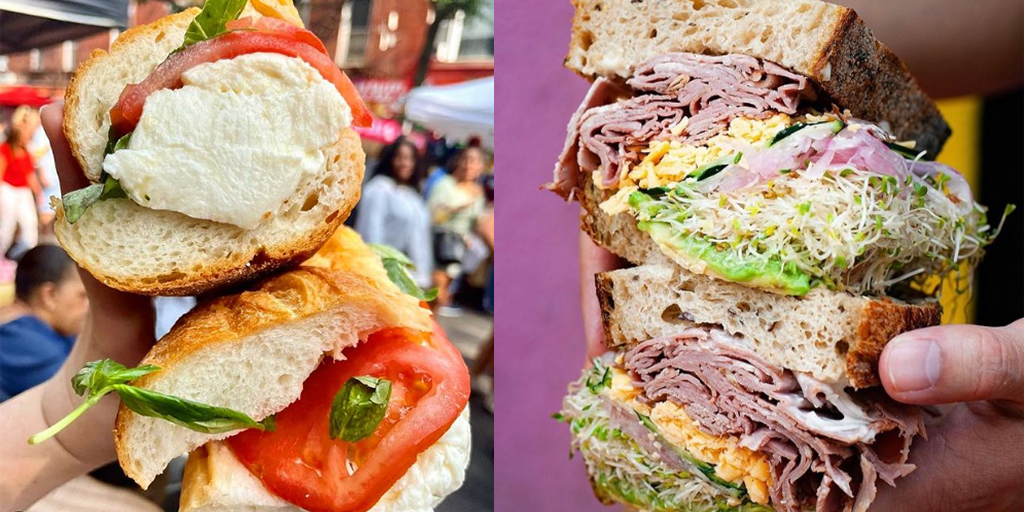 Traditional flavours like coronation chicken, ham and cheese, and tuna melts have a place; they're just a lot bigger now…
Extra cheese – Cheese pulls, cheese melts, it's all about cheese. And people are going crazy for it!
Inspiration: Romesco, provolone, roast aubergines, marinated artichokes, seasoned broccoli rabe, smashed smoky salmongs and 'juice' dressed rocket, Dom's Sub's, London. Tomato and mozzarella sandwich, Casa Della Mozzarella, NYC.
'Hammwich' – Think thick-cut gammon, slow-cooked pork and brisket, accompanied with crunchy slaws, spicy chutney, sauces and pickles.
Inspiration: Roast Berkshire pork, fontina, Benton's aged ham, pickled red onions and mustard, Fox Face, USA. Ham sandwich with pepperoncini-pickled eggs, house-made salted maple butter, shredded cheddar and spring onions, Wax Paper Co. USA.
Morning Rolls – Everything you could want for breakfast, between buttery buns or soft bread. Some of you may even struggle to get your teeth around…
Inspiration: Smoked bacon, fried egg, American cheese, chilli jam, brioche and parmesan breakfast sandwich, Restaurant 1251 and Eggbreak Collab, London. Bacon, egg, sausage, cheese and hashbrown bagel, Earl's Sandwiches, London.
Deep Reuben – Although the traditional Reuben is made with corned beef, there are now many variations of the sandwich in true deep-fill style. There are even veggie options, like kale, broccolini, and mushrooms taking its place, aptly called the 'Mushrooben'.
Inspiration: Pastrami and sauerkraut, kale, special sauce, cornichon, caramelised onions and kale on ciabatta, Wax Paper Co. USA. Broccolini 'Reuben', with pastrami spice broccolini, sauerkraut, Russian dressing and pickled Fresno chillies on rye, Heritage Sandwich Shop, USA.
Katsu loving – the 'katsu sando' has been doing the rounds on Instagram. The perfect combination of crunchy, succulent chicken, soft bread, oozing sauce and spicy slaw.
Inspiration: Chicken katsu cheese-pull sando, Katsuya, USA. Beef belly katsu sando, Dosanko Restaurant, Canada. Thai prawn katsu sando, Sandoitchi Cafe, Australia.
Bành Mí – We couldn't not mention the bành mí, a Vietnamese classic that's become a global favourite. Almost anything goes as a filling, but it's the western flavours that keep it consistent with crunchy veg and lots of fresh coriander.
Inspiration: Smoked bành mí sandwich with smoked brisket, pickled daikon-carrot-cucumber, cilantro, chilli dressing and mayo on baguette, Gjusta Bakery, LA. Free range duck bành mí with cilantro, pickled carrot & daikon, cucumber and fermented pepper aioli, Heritage Sandwich Shop, USA.
Grinder Salad Sandwich – or so it's called. It's basically meat, cheese and some sort of salad. It's called the 'Grinder' because a particular sandwich with the name went viral on TikTok.
Inspiration: Yoghurt marinated chicken thighs, pan-fried with garlic-infused olive oil, roasted garlic, cheese curds, Muenster and Parmesan, @cooking4avery. Vegan grinder salad sandwich with vegan pepperoni, seitan turkey, vegan cheese, tomatoes, lettuce, red onion, pepperoncini, tasted on a flat top with Italian seasonings, @theveggiehsv.
Chicken rules the roost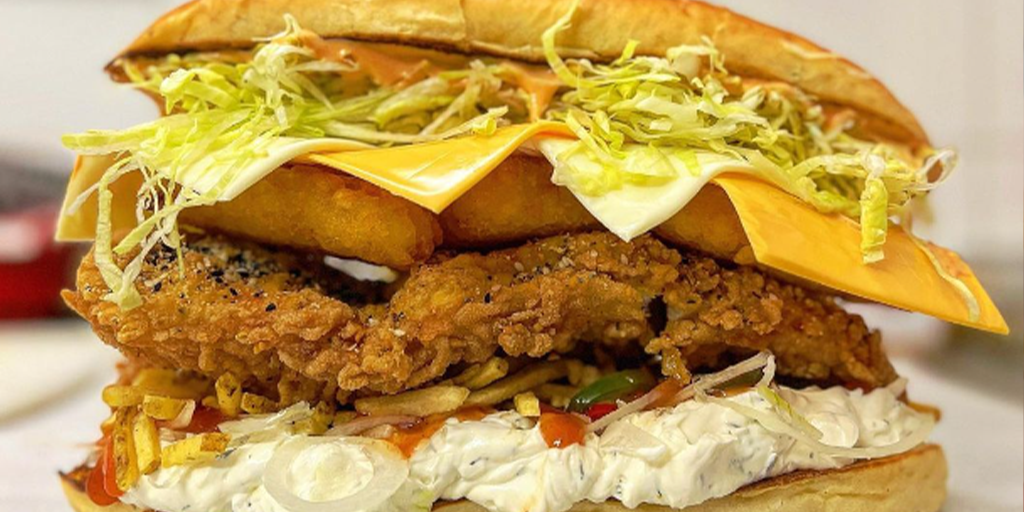 Meat-free may constantly be growing (and something we should all have on the menu), but the trend for meat, specifically versatile meats like chicken, still rules the roost, and turkey and duck have their place too.
Classic chicken – Roast, poached, breaded, deep fried, chicken soaks up flavour beautifully, which is why it works so well in a sandwich.
Inspiration: Poached chicken, Alabama white, chicken far croutons, Cheetos popper, King of Feasts, Edinburgh. Roasted chicken, crunchy green salad, pesto, crispy chicken skin, mustard mayo on bubbly bread, Dusty Knuckle, London.
Chicken cutlet – The fried chicken cutlet is another important mainstay of deep-fill sandwiches. Often smashed thinly, coated in breadcrumbs and deep fried for a crunch, this humble bit of meat is used in cuisines all over the world.
Inspiration: Citrus brined chicken thighs, crumbed in panko with koji chimichurri and salad cream, Nico's, Australia. Chicken cutlet, fresh mozzarella and broccoli rabe, Faicco's, USA.
Southern fried – Is it a sandwich, is it a burger? We'll leave that up to you to decide, but it's definitely used in some of the most innovative sandwich combos in the deep-fill scene at the moment.
Inspiration: Whisky and maple glazed crispy chicken with crunchy slaw, lettuce, crispy shallots and blue cheese dressing, Palmer's Sandwich Shop, Aus. 11 spices fried chicken, fried pickles, gherkin ketchup and Japanese mayo, Earl's Burger Co, Edinburgh.
Turkey slaw – A Stateside favourite! With turkey's mild flavour, it's a blank canvas for chefs to get creative.
Inspiration: Roasted turkey, bacon, coriander, lime and mayo slaw, dijon mustard, toasted sourdough, Sammich, USA. Butternut squash vodka sauce, hot turkey, pepper relish, melted mozzarella with a salad of pickled red onion, rocket and raw fennel, E Stretto Sandwich shop, USA.
The rest of the meat warriors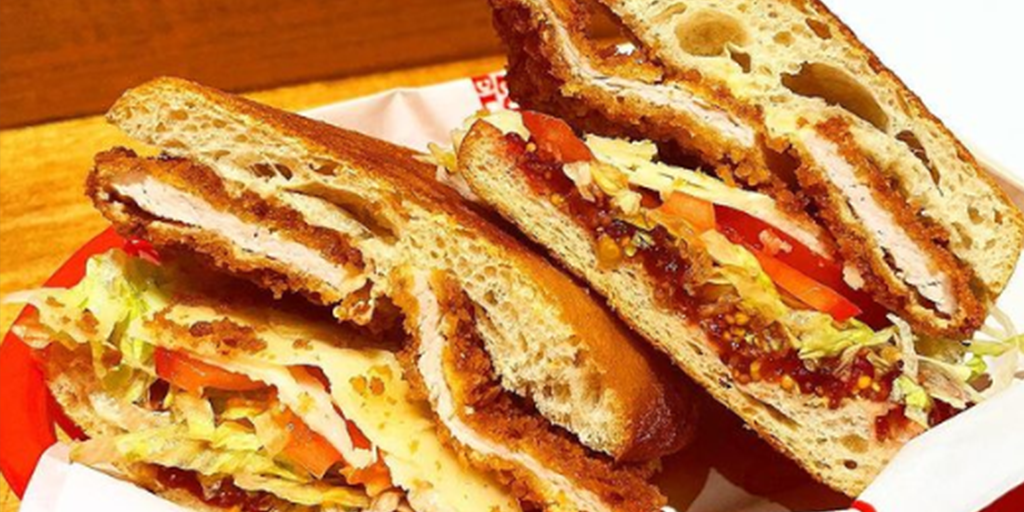 Pulled pork – It forms the backbone of many deep-fill pork sandwiches, often paired with zingy and fruity flavours like mustard slaw, peach and apricot – and there's often an Asian twist in there somewhere.
Inspiration: Pulled pork with peaches, buttermilk ranch coleslaw, toasted pecans and molasses bbq sauce on a ciabatta roll, Turner's Kitchen, San Francisco. Fried span, tabasco sriracha mayo, pea shoots, cucumber, scallions, chilli sauce, nori strips and puffed black rice, Wax Paper Co. USA.
Roasted or braised pork – The Italian porchetta is the perfect sandwich to turn deep-fill style. And pork belly; brined, braised, roasted or smoked, really makes these sandwiches sing.
Inspiration: House made porchetta, salsa verde, malt mayo, Swiss cheese and rocket Theo's Deli, Australia. Pork belly ham, fondue cornichon, pickled mustard seeds, romaine lettuce on Ficelle, Lardo, USA.
Salt beef – Is there a better combination than salt beef, gherkin and mustard?
Inspiration: Corned beef hash sando, Panadera Bakery, London. Salted beef, Sausalito watercress, Jicama, horseradish and celery, Bread Belly, USA.
Beef it up – Just like pork, beef can be braised, roasted, slow-cooked, you name it. And some people even serve their sandwiches with a dipping pot of sauce… or gravy.
Inspiration: Seared roast beef, pepper jack cheese, provolone, red onion, jalapenos with mayo, chimichurri on toasted sourdough, Sammich, USA. Ox Cheek, short ribs and been chunk, cooked overnight with ancho and guajillo chilli marinade, onions, lime and coriander with a consommé dip on the side, Dom's Subs London.
Meatballs – We all know how popular Subway's Meatball sub was… And still is. So it's no surprise other sandwich shops are also jumping on the trend of stuffing meatballs into a sandwich.
Inspiration: Bala Boy Meatball Slammer, Bala Sanga, Australia. Pork & beef meatballs, saffron tomato sauce, fresh herbs, feta and mozzarella, marinated onion on ciabatta roll, E Stretto Sandwich Shop, USA.
Sausages – Sausage meat in all forms is allowed here, whether it's in the casing or broken up. They're usually packed with bold flavours and certainly not for the faint-hearted.
Inspiration: Loose meat frankfurter sausage, French mustard, cucumber and pepper relish, onion, pickle, fresh tomatoes, chilies and celery salt, Dom's Sub's, London. Grass-fed Lamb merguez sausage, sweet peppers & onions, melted fortina, goat shmear, fig jam, wild arugula, on rustic roll, Ham and Cheese, USA.
Seafood lovers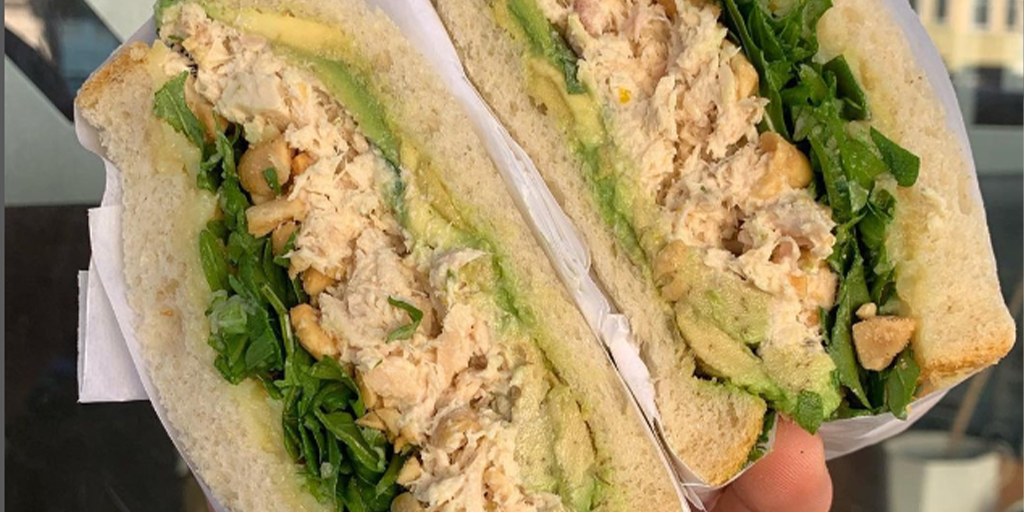 Seafood may not be for everyone, but shellfish lovers go crazy for a sandwich like this. Think posh fish finger sandwich and deep-fried soft-shell crab with Asian slaw…
Tuna – Upgrade that tuna melt with a deep-fill style tuna melt, which means even more tuna, even more slaw, micro greens, pickled veg and homemade sauce to keep it all together.
Inspiration: Tuna bloomer with sprouts and black olive salad, Gjusta Bakery, USA. Giant tuna melt with bacon, American cheese and sprouts, pickles on a french roll, Deli Board, USA.
Prawn – Plain or fried and alongside punchy flavours like lemon, aioli, jalapeno and chillies, and crunchy lettuce, this sandwich is far from the usual prawn cocktail.
Inspiration: Tiger prawn shrimp sandwich with jumbo shrimp tossed in lemon aioli, diced bell pepper and celery in a brioche bun with jalapeno and avocado, Heritage Sandwich Shop, USA. Wild shrimp, dry-farmed early girl tomatoes, salt and vinegar chips, iceberg and old bay seasoning, Palm City Wines, Australia.
The rest of the ocean – It doesn't just stop at tuna and prawns. There's salmon, trout, and white fish like haddock, crab, octopus and lobster too.
Inspiration: Poached salmon, red pepper salsa, guacamole, sun-blushed tomatoes, green hern and spring onion salad topped with sliced boiled egg in sriracha may, Earl's Burger Co. Edinburgh. Fish sando on shokupan with panko fried red snapper, tonkatsu, pickled daikon and togarashi, Milk, London.
Plant-based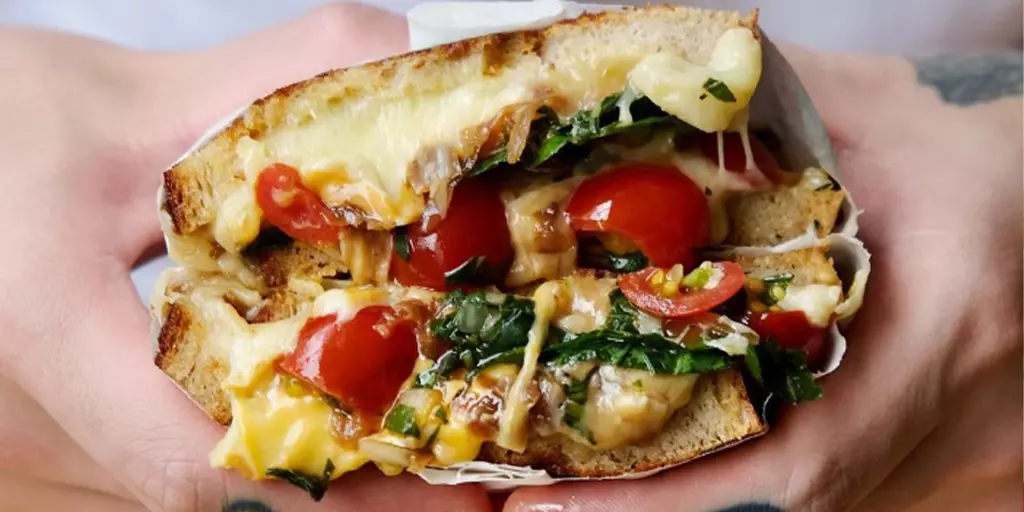 Like every trend article, there has to be a section on plant-based. It's how every chef stays relevant to all audiences. And actually, some of these are so delicious, we can't imagine a meat-eater even missing the meat.
Keeping the vegetables front and centre is Saga Enmore, in Australia with its Aubergine schnitzel, tomato passata, parmesan custard, mozzarella, and basil Ciabatta. And they also have a brilliant 'Brassica' (broccolini, cabbage, broccoli, brussel sprouts, cauliflower etc.) sandwich too, packed with charred broccolini, chilli mayo, capers, caciocavallo cheese, lemon and sourdough.
Slaw doesn't need meat; meat needs slaw. These vegetable sandwiches are full of colour, finely shredded vegetables. Jolly Good Sandwiches in Australia has made a beautiful English tribute with English cheddar, beetroot and carrot pickle, alfalfa mustard, mayo and butter lettuce on a Drench roll, and The Dusty Knuckle Bakery in London has a lovely Labneh smashed cucumber sandwich with parsley, mint, and olive and walnut sauce.
We all know how good mushroom is in place of meat (and it's even popular with the meat-lovers too). Korio in Singapore has made a delicious thyme-roasted mushroom sourdough sandwich with black truffle aioli, caramelised onions, provolone, and rocket. Bala Sanga in Australia is also sticking to sourdough to encase its portobello mushrooms with seeded mushrooms, bechamel, rosemary aged cheddar, and truffle salt.
Beans might sound hard to keep in a sandwich, but some shops have truly nailed it. S-wich in Australia has created a spiced lentil sandwich with roasted carrots, baby cos, meredith goats cheese, pickled beetroot, dukkah and chives.
Don't forget the avocado – especially if you're going Mexican. Smash it into guacamole, cover it in breadcrumbs and lightly fry or slice for a fresh creaminess that brings green health to sandwiches. We love Small's Deli in Australia's Green Goddess panini with kale puree, avocado, iceberg, granny-smith apple, alfalfa and pepita.
Take it to the max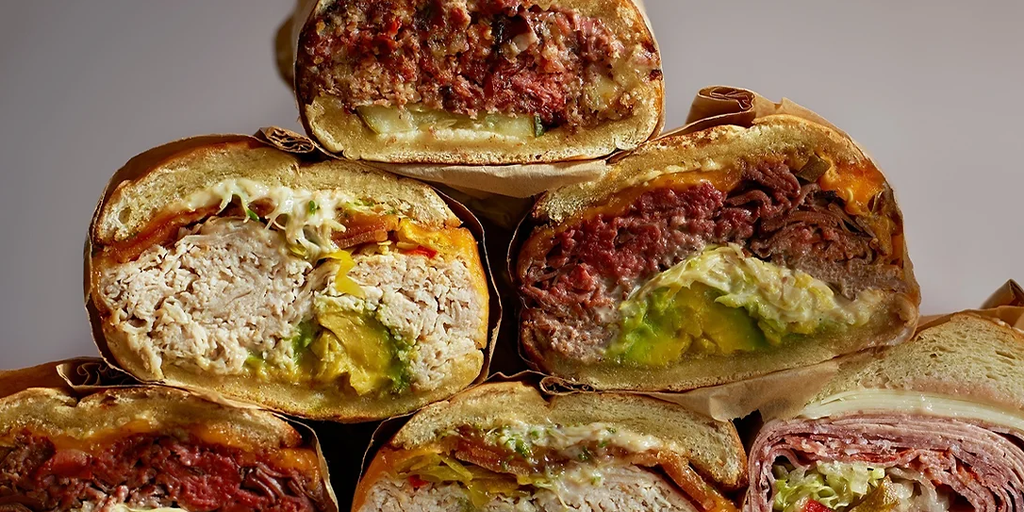 Some restaurants don't just stop there; they take everything and anything and put it inside two slices of bread. Bala Sanga in Australia has made a duck and white bean cassoulet sandwich with kale pesto and cheese on rye. King of Feasts in Edinburgh is going double carb with its Cacio Pepe chicken sandwich with chicken cutlet, Parmigiano sauce, black pepper, rocket and pickled chillies. And taking the 'double carb' to the ultimate level is Turner's Kitchen, USA, who's basically put a roast dinner inside a sandwich: roast beef, white cheddar, rocket, roasted potatoes, lemon-roasted garlic mayo and gin-pickled cucumber.
Is there a limit to deep-fill sandwiches? It doesn't look like it. As long as you're bringing good textures and contrasting flavours, you're onto a winner. Many of these sandwiches evoke comfort and nostalgia with their double-carb, slow-cooked meat fillings. Our advice? Go bold, and don't be afraid to add pickles!