Soup's rise in popularity is continuing, with international ingredients delivering a worldly flare, creative toppings turning a basic bowl into a restaurant-quality dish and the transformation of a simple snack into a hearty and filling meal.
This delicious, nostalgia-inducing meal can be served all through the year. From warming and comforting veg-packed soups and creamy veloutés to refreshing, cold soups like Gazpacho, soup is incredibly versatile, used by chefs everywhere from pop-ups to fine dining, cafes to schools.
Classic winter warmers
With the wave of chefs 'cooking with the seasons', it's no surprise that classic winter warmers dominate menus and even social media feeds across the globe during the colder months.
Here are some of the most popular ingredients:
Squash
This significant autumnal vegetable has graced soups for years but that hasn't affected how popular it is with customers.
Inspiration: Maritime Express in Canada's caramelised buttercup squash cooked in rabbit stock, topped with fried Lacinato kale and Cape Breton Jersey Cow Milk. Folk in Detroit's Roasted Kabocha squash with warming spices, coconut milk, sambal, chilli oil, pepitas and fresh herbs.
Root vegetables
Root veg gives soup body, depth and holds its own against punchy spice and umami-rich ingredients like mushrooms and miso.
Inspiration: Celeriac soup with celery roots, fermented ceps and Miyagawa mandarin zest and crispy celery leaves, Esters, London. Curried swede with crispy haggis, @peckhamchef.
Chowder:
Sweetcorn is still very much on trend and chefs have been using it to jazz up the humble chowder, taking influence from Mexican cuisine and much more.
Inspiration: Sweetcorn soup, aerated and served with smoked corn, coriander, and a Dorset crab mayo tart, with crab jelly and creme fraiche, Etch, in Brighton. Spicy corn chowder with Jersey sweet corn bounty, topped with crispy bacon and charred spring onion, Talula's, USA.
Mushrooms:
Earthy and Umami-rich, mushroom soup is nothing new but the types of mushrooms (like the medicinal Lion's Mane and Reishi mushrooms), and the way they are being used is.
Inspiration: Peranakan tom yum soup of wild mushrooms in heritage herbal broth of lemongrass, kaffir lime leaves and sun roasted dried chillies, Roselyn, London. Cream of mushroom soup with walnut and caper pesto, Kerridge's Bar and Grill, UK.
Pulses and grains
Pulses and grains are a great way to add a hit of plant-based protein into your soups, and lentils, creamy white beans and chickpeas continue to thrive.
Inspiration: Lentil, celeriac and tarragon soup, Fortitude Bakehouse, London. Freekeh soup infused with cardamom and topped with caramelised onions, Zaytoun Foods, UK. Slow-cooked borlotti bean and farro soup with rosemary oil and parmesan, The Dusty Knuckle, London. Flamingo peas and tomato soups, partly blended with oil, topped with confit shallots, daikon and house-made dilly beans and mint, Esters, London.
Retro Revival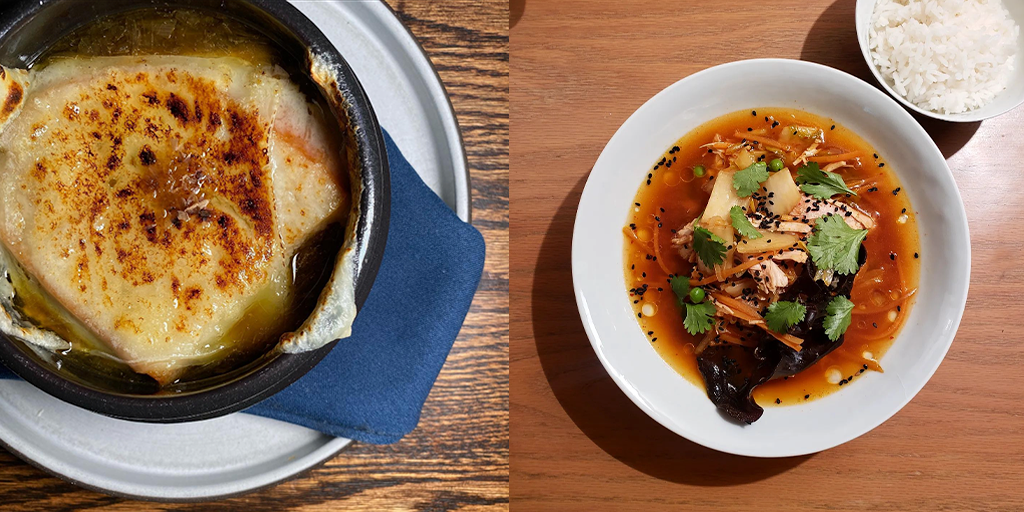 Some winter warmers evoke such strong nostalgia when we eat them, especially the retro classics. But, of course, chefs have given these a retro twist like adding beans, chilli or booze to the classic French onion soup, fragrant broths with succulent chicken, and even upgrading the typical Polish Borscht soup with everything from cheese to fruit.
Inspiration: French onion soup with dashi stock @cloudsandspirits. French onion soup, spiked with Glendronach whisky, @weerascal. Chicken, black fungus, tofu skin and kimchi, @bbarnes_is_hungry. Buffalo chicken soup with blue cheese cream and spring onions, The Royal American, USA. Ukrainian borscht with garlic rolls and sour cream, Catalyst Coffee Roasters, UK. Beetroot soup loaded with gravlax, goats cheese and nuts, Paprykarz Fish Market, Poland.
All about the toppings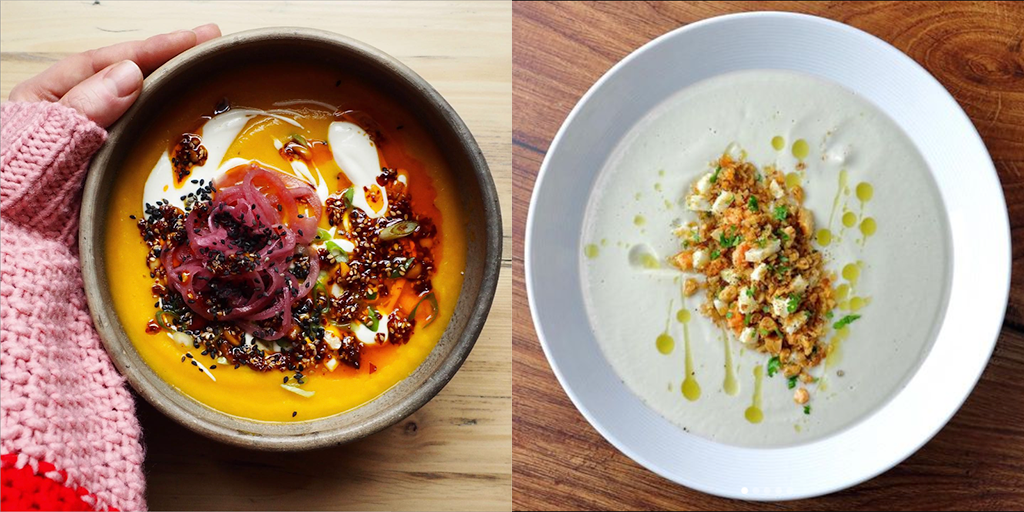 Pretty much anything can be used as a soup topping, from nuts and seeds to more elaborate, fully-loaded ingredients.
Go fully loaded and top your butternut squash soup with chilli oil, coconut yoghurt, pink pickled onions, sesame seeds, cashews and coriander like @giovaniryan. Or why not roast up brussel sprouts and use them to top your celeriac soup, alongside mustard shoots and wild garlic oil (@martin_nordin). From avocado to corn on the cob and chunks of succulent, salty meat, just about anything goes!
Get creative with croutons and add a tasty crunch to your soup. Think sourdough laced in salty parmesan or even puff pastry as a soup lid, like they do at the M&S cafe. Mob Kitchen pairs their broccoli and cheddar soup with a cheddar, black sesame and chilli 'crouton' for a tasty snap!
Nuts and seeds are a simple way to add texture to soup, but rather than simply throwing on a few seeds, chefs need to get creative in the way they roast and glaze them. @peckhamchef tops his chestnut velouté soup with confit duck leg and hazelnut dust, while Darcy's Kaffe in Denmark uses coffee-roasted pumpkin seeds and leek oil to garnish the caramelised pumpkin soup.
The oil drizzle is another common technique but it can give a serious punch to soup. In winter, it's common for ingredients like truffle, wild garlic, spring onion, leek and chilli to be used in a concentrated oil form to top soups. Restaurant Moro in London uses activated charcoal oil to offset against the rich butternut squash colour of their soup, and @nicolassintes uses parmesan, hazelnuts and pine tree oil to top his porcini mushroom soup.
Bring some vibrant colour and freshness to your soup with herby pestos and colourful flowers. Wahpepah's Kitchen in California uses a courgette flower, white Esters uses roasted cauliflower, lemon zest and red amaranths.
Give it the foamy finish. Made famous by Gordon Ramsey's cappuccino soup back in 2010, it's still loved by chefs, who use everything from soy yoghurt to milk and cream to top their soups.
A soup for every occasion: which format should you choose?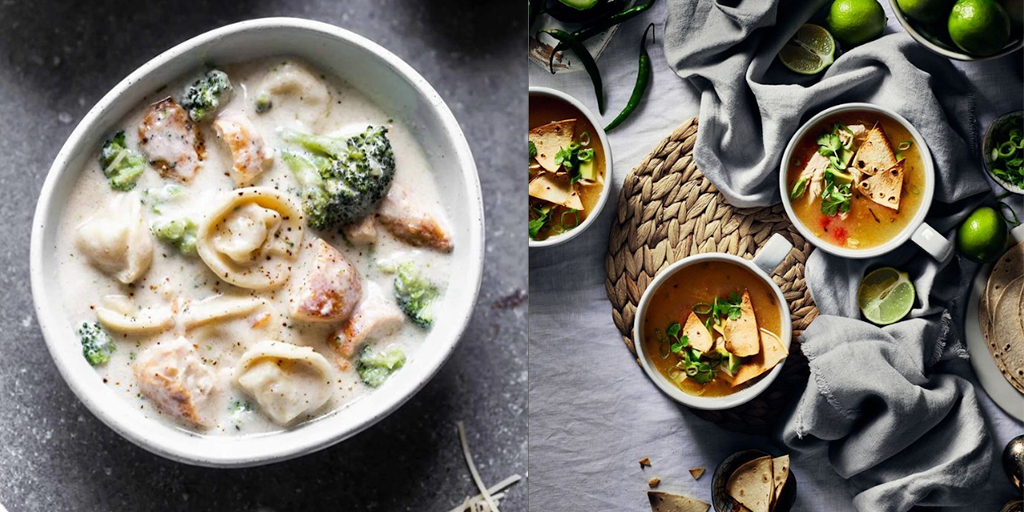 From thin yet deep broths and consommés to thick, velvety veloutés, bisques and chowders, we've said it before and we'll repeat it, soup is just so versatile…
Broths – often consider a lighter, healthier soup, that's delicate yet can pack a serious punch! Some chefs like to bulk them out with dumplings, pulses or veg but the broth is the main star of the show here.
Blended Bliss – creamy and delicious, this velvety-smooth soup is the perfect canvas for adding all those toppings we discussed earlier. @cookingforkeeps makes a delicious creamy potato and leek soup with brown butter.
Super chunky – this really is a meal in a bowl and probably the most filling and substantial of them all. Chefs love to pack out soups with veg, pulses and pasta. @plantbased.foods uses lasagne sheets to make 'butternut-squash lasagne soup', and @gourmetglow uses chicory, sweetcorn, butter leeks and giant beans.
Get meaty – shredded chicken is still a popular addition but Italian meats like guanciale and n'djua are also being used to give soup a little more depth, flavour and protein – it's also a great way to use leftovers.
Go green – health and nutrition is a trend that will never die, especially in the months following Christmas. You can't go wrong with a vibrant green soup packed with goodness. Think spinach and basil pesto soup with shredded chicken and macaroni, or fennel, garlic, bean and kale soup, @allosimone.
Global influence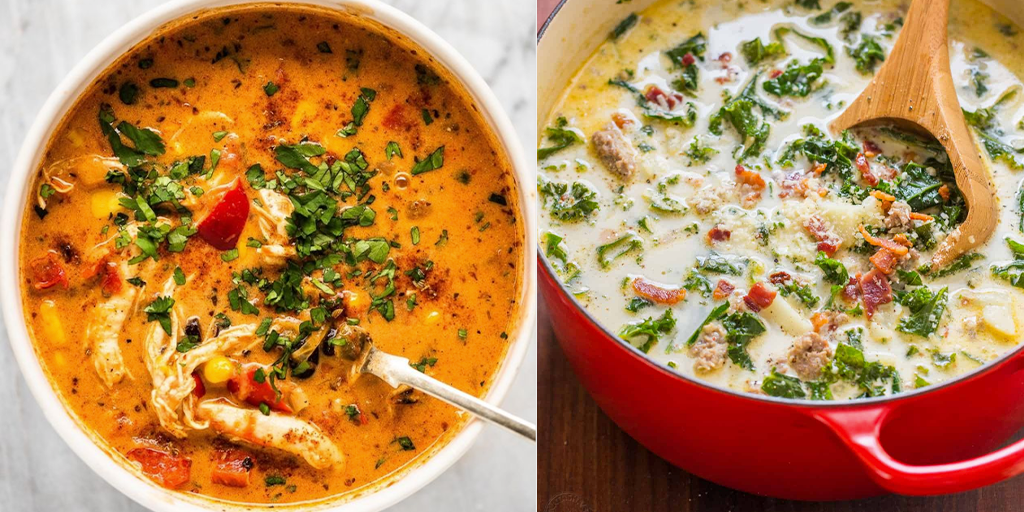 The lines are blurring when it comes to cooking, with chefs using ingredients and flavours synonymous to cuisines from all over the world. When it comes to soup, it helps to add some excitement into a category that would otherwise remain stagnant. Mexican, Asian and Italian flavours are giving us some really wonderful and intriguing soups.
Italian cuisine is everywhere! Not only does the UK just love pasta, chefs enjoy the use of simple but quality ingredients to make fantastic dishes customers won't forget. Think Tuscan ribollita, zuppa toscana, and pastina if you're interested in trying more traditional Italian dishes. Otherwise, TikTok is exploding with people adding gnocchi and orzo to soups. Look at @theendlessmeal creamy tomato-based tortellini soup made with creamy cashew butter.
There aren't many dishes that can't be made better with a kick of spice and sprinkling of crunchy tortilla chips, which is why Mexican soups are hitting menus thick and fast. Chicken tortilla and enchilada soup generated a buzz on TikTok last year and chefs are enjoying giving a twist to the usual sweetcorn chowders with ingredients like fresh lime, coriander, jalapenos and cheese.
Is it Pho or soup? We'll let you debate this one but there's no denying the influence that Asia has had on many dishes – especially soup. We're not just talking coconut milk and spices, think noodles, Ramen, and slow-cooked meats. The Greyhound Cafe in London does a fantastic Tom Yum Goong Noodle soup with whole tiger prawns and flat rice noodles.
The mighty miso has cropped up in most of our food trend articles – there's just no stopping it! Our much-loved Japanese friend has been adding an umami hit to everything from sweet desserts to savoury sauces for years, and now it's being used in soups to bring depth and savoury deliciousness. Check out Alma's cauliflower and miso soup with preserved lemon gremolata and fresh mint.
Champion local and healthy, and reduce food waste
How sustainable we are when we cook is going to be a key influence in every category, especially with the cost of living very much in the spotlight. There will always be a market for healthier soups too and calling out the amount of protein, fat or fibre in a soup can help caterers looking to appeal to that market.
In a crowded category, to help your soups stand out from the crowd, using local ingredients is a great way to do it. And, of course, use your soups to use up leftover ingredients, it will help the planet and your pocket!