From steak bakes to veggie delights, cheesy wonders and even Asian-inspired sweet and savoury phenomenon's, these are the savoury pastry trends to get behind this year, whether you're a care home, school, cafe, restaurant or bar.
Savoury pastries, flakey, buttery and oozing with delicious fillings, pastries are a thing of beauty. Not to mention they've taken social media by storm with mouth-watering photos and reels showing the best spots to get them.
Savoury Breakfast Pastries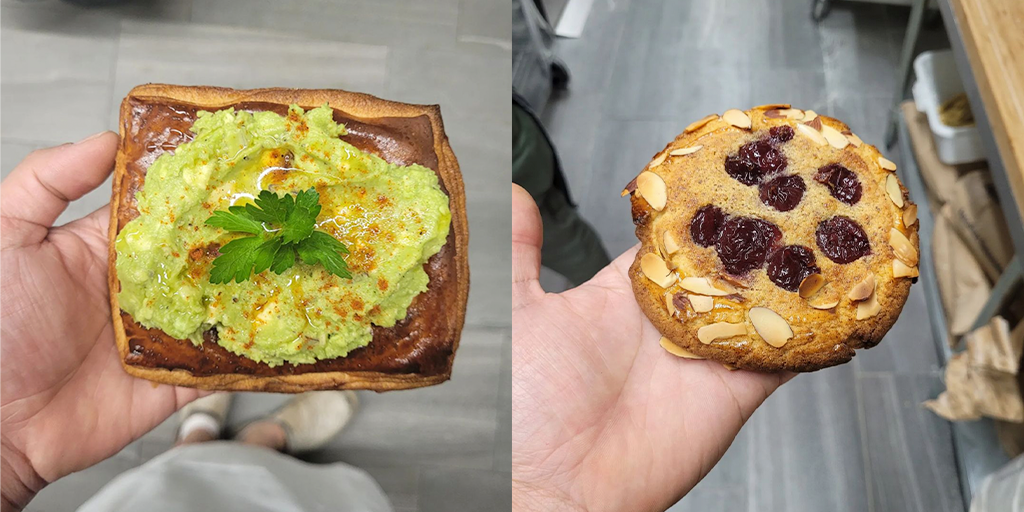 You may think it's all about sweet when it comes to the morning pastry and coffee run, but actually, savoury pastries are becoming incredibly popular. With the addition of eggs, avocado, and in some cases a Full English, a savoury pastry can be a little more fulfilling than a sweet pastry while ticking all the yummy boxes. If you run a cafe or are looking to mix up breakfast, these are for you!
Inspiration: Avocado Danish, Geste Croissanterie, Canada; Shakshuka, egg and feta danish, Bourke Street Bakery, NYC.
Innovative Steak Bakes
Oozing with rich gravy and succulent steak, steak bakes are one of the top-selling pastries in the UK. But of course, the classic is no longer good enough. Chefs are looking to 'beef things up' with some additional ingredients like mozzarella, pickled cucumbers and caramelised onions. These would be great as a pub snack!
Inspiration: Braised beef pastry with caramelised onion, pickled cucumbers and honey and mustard dressing, Chef Lievito Madre, Argentina; Braised short rib Danish, with carrots, red dates and mushrooms, topped with mozzarella, Folklore, Australia.
Mighty Meaty Pastries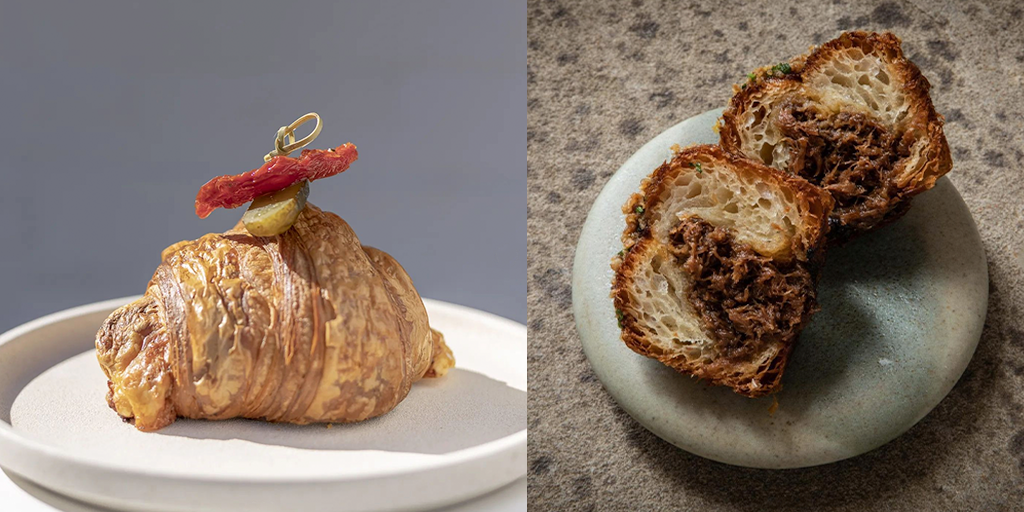 Beef isn't the only meat to make it between the flakey layers of pastry. Chefs are using lamb, chicken and cured meats alongside a variety of spices to create some truly show-stopping savoury pastries. From on-the-go snacks to side dishes and starters, these mighty meaty pastries are positively mouth-watering.
Inspiration: Lamb neck cruffin with lamb crackling, Roots, York, UK; Prosciutto, camembert, cranberries semi-sourdough croissant, Baker's Duck, Australia.
Flakey Fish Savoury Pastries
Besides smoked salmon and cream cheese, fish isn't often associated with a pastry. But yet prawns, trout and shrimp are all getting a look-in. Some chefs are even adding a soft-boiled egg inside too, like a cross between a scotch egg and a croissant – genius!
Inspiration: Smoked trout pastry with leak, potato gratin, horseradish and quark, Austro Bakery, Australia; Laminated doughnut pastry filled with Hae Bee Hiam (spicy dried shrimp), cream cheese custard, parmesan and shrimp floss, and crispy fried shrimp, Le Matin Patisserie, Singapore; Smoked salmon, eggs royale croissant with sous vide egg, smoked salmon, hollandaise sauce in thyme croissant pastry, Keong Saik Bakery, Singapore.
Mushroom Pastry Bakes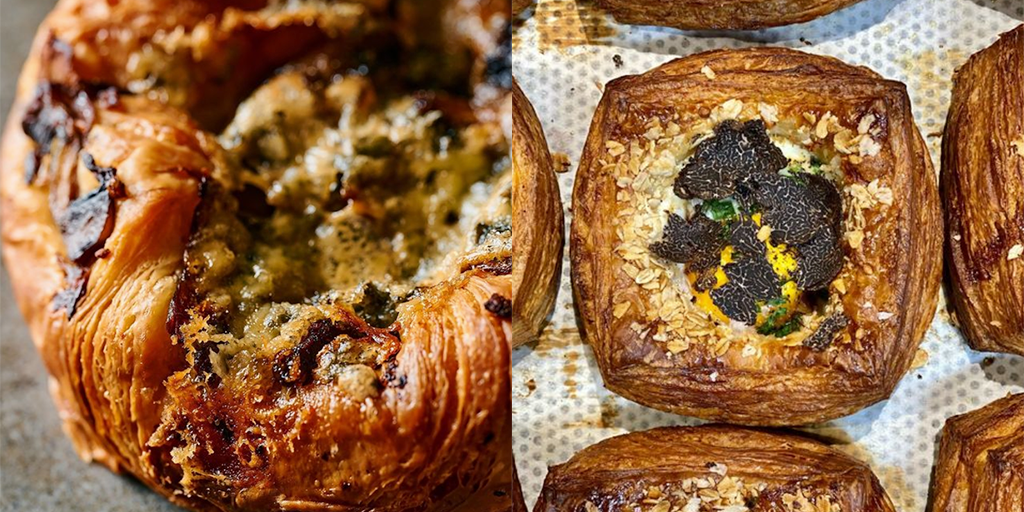 Mushrooms are a brilliant ingredient in any dish, packed full of umami flavour and work incredibly well with cheese and truffle… a great combo for a savoury pastry. And with foraging increasing in popularity too, expect to see the use of wild mushrooms as well.
Inspiration: Buttery lune pasty, jammed with mushrooms and blue cheese, Lune Croissanterie, Australia; Egg and mushroom pastry with crispy oats and truffle, Pioik Bakery, Australia; Mushroom, mascarpone & Grana Padano, Company Bakery, Edinburgh.
A Rainbow of Tomato Savoury Bakes
There's something about tomatoes on a pastry that looks so delicious. Not to mention, alongside some fresh, creamy mozzarella and basil, it's a match made in heaven, no matter what it's put on. Some bakers leave the tomatoes fresh, others blister the skins and drizzle them in golden olive oil, but however they're done, they make a great light lunch or starter.
Inspiration: Confit tomato, goat's curd & basil pastry with Isle of Wight tomatoes, goats curd whipped with ricotta, lemon zest & black pepper, basil, salt and confit tomato oil in a stoneground croissant pastry case, Darcie bakes, UK; Tomato, bell pepper, cream cheese, mozzarella and basil danish, Project Sweet Dish, India.
Gone to Veggie Heaven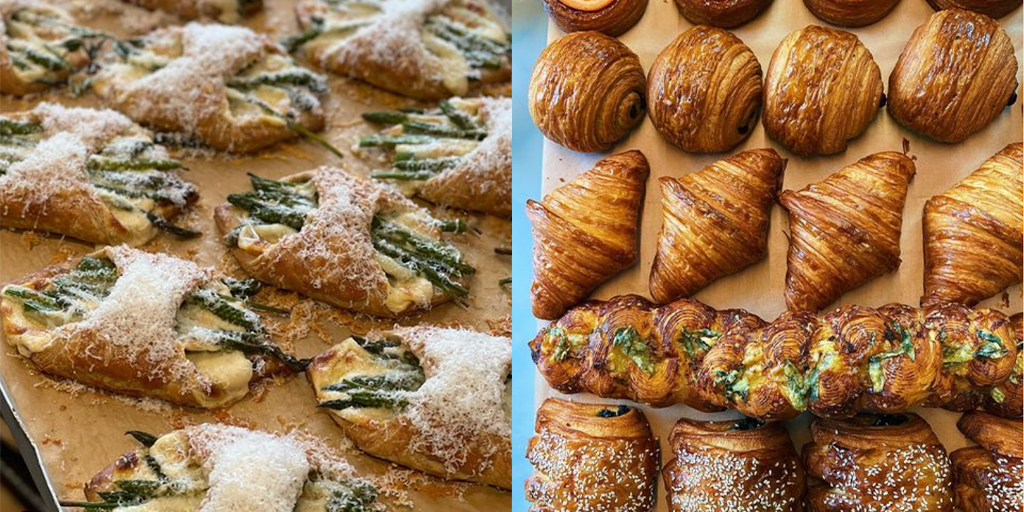 Aside from mushrooms, there are also other veggies that are favoured when it comes to savoury pastries. Aubergine makes a good meat alternative filling, as it's quite a robust vegetable, but foraged leafy greens like spinach, nettles and wild garlic are incredibly popular when they're in season. If you live near a forest or enjoy a bit of foraging, maybe give these a go this summer?
Inspiration: Wild Bath asparagus turnover with England preserves mustard, Landrace Bakery, Bath, UK; Fermented chilli and cheese, potato, rosemary and buffalo cheese pastry, Small Batch Roastery and Cellar Door, Australia.
Extra Cheesy Bakes
Cheese makes everything better. As expected, the usual culprits are parmesan, gruyere and mozzarella, but a few other additions include blue cheese, Mimolette, pecorino and mascarpone, bringing a salty, creamy edge to a savoury pastry.
Inspiration: Memrillo & pecorino danish filled with cheese pastry cream, quince jam, shaved pecorino and almonds; Breadbelly, USA.Kimchi & Isle of Mull cheddar pastry with confit garlic breadcrumbs, Company Bakery, UK.
Not-So Classic Ham and Cheese Bake
The classic ham and cheese foldover will never get old, often found in cafes like Pret and Costa and even in delis in France, wedged inside a croissant. But, of course, chefs are taking the humble slice of ham and swapping it for ham shoulder, pulled pork, prosciutto, and drizzling it with unctuous cheese. If there's one classic to put on your menu this year, this is a true crowd-pleaser and less 'fussy' than the others.
Inspiration: Bechamel, ham shoulder and mozzarella cossette, @herviaux_sylvain_mof, France; Ham and cheese croissants with caraway bechamel, Layla Bakery, UK. Prosciutto with St Andrews cheddar bechamel and wholegrain mustard, The Palmerston, UK.
Boosting the Flavour
Cheese and onion is a classic combination but lately, chefs are getting fancy with the whole family, using charred leeks, cippolini onions and much more. Think burnt onion crumb, leek pesto and fresh spring onions.
Inspiration: Bechamel, wholegrain mustard and Gammel Knas cheese with ramson pesto of wild garlic, wild leeks and toasted apricot kernels, Collective Bakery, Denmark; Ontario spring onions, smoked bacon, ricotta, Geste Croissanterie, Canada.
Pizza Party Bakes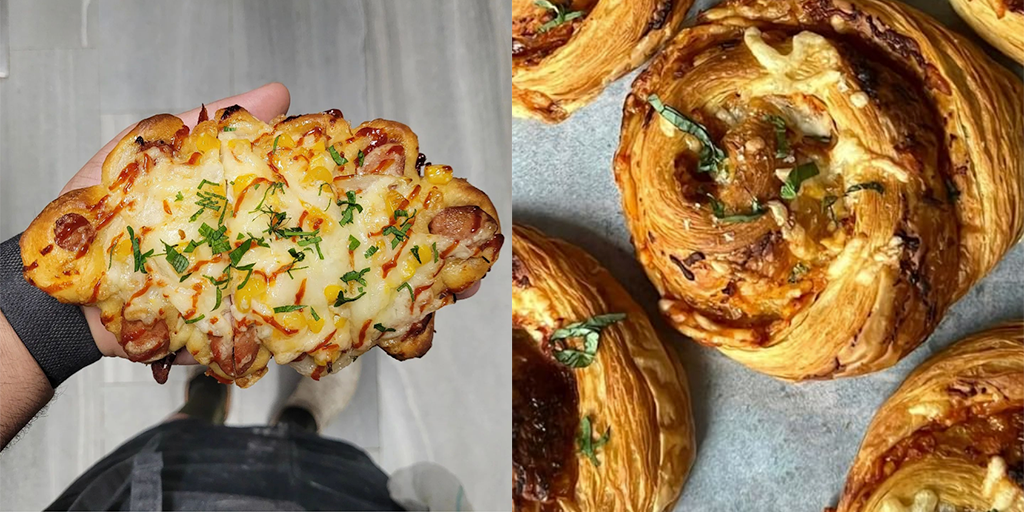 Pastry is basically bread, but with a little more butter and a whole lot more flake rather than those attractive sourdough air pockets, so there's nothing wrong with topping it with a little cheese, pizza sauce and pepperoni. Think scrolls, rolls, and croissants, all blessed with the trappings of pizza. These are great for schools and bar snacks!
Inspiration: Pizza pastry with sugo, parmigiano and grated mozzarella wrapped in flaky, buttery pastry with basil, Company Bakery, UK; Pizza bang on layered Korean sausage bread, Geste Croissanterie, Canada.
Italian Stallion
The real Italian influence to savoury pastries comes in the form of chicken meatballs with arrabbiata sauce, lasagne escargots, and of course, cheeses like ricotta, parmesan, pecorino and much more. A delicious mid-morning snack if there ever was one.
Inspiration: Isle of White tomato & pecorino custard, Popham's Bakery, UK; Lasagne escargot with rich bolognese, bechamel, parmigiano and croissant pastry, Lune Croissanterie, Australia.
Asian Adventure Bake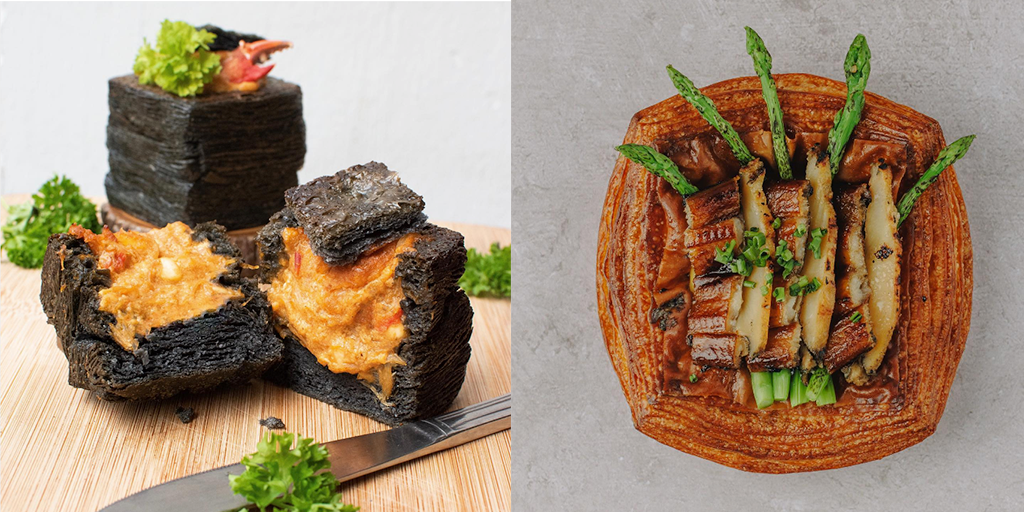 Asian influence seems to work its way into most dishes. And savoury pastries are one of them. The favoured umami ingredient in this style of cooking suits pastries, hands down. Think miso, soy and kimchi.
Inspiration: Sourdough danish pastry glazed with miso, filled with umami abalone liver custard and mushrooms, baby asparagus, grilled unagi and abalone slices, Le Matin Patisserie, Singapore; Chilli crab croissant cube with mini crab claw, Keong Saik Bakery, Singapore; Pork floss bun with seaweed butter, Bloods Bakery, Australia.
Innovating the Shape of the Bake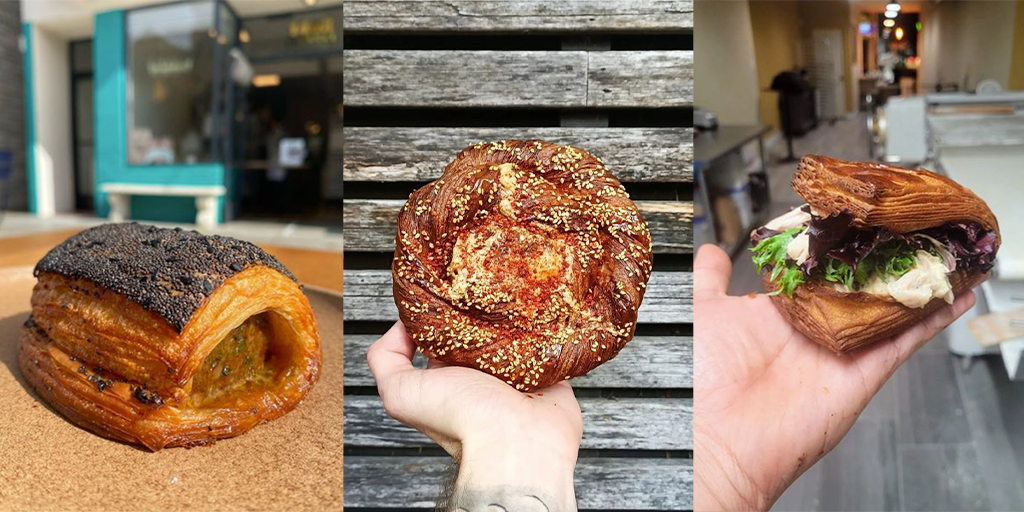 Aside from flavoursome ingredients, it's how we're shaping our pastries that is grabbing people's attention. Folding, rolling, twisting, and swirling, catch your customer's eye with these innovative bakes.
1) In the fold
If you don't have bread, use puff pastry! The options are endless with puff pastry. You can fold it over, just like a sandwich, and stuff whatever you like inside. This is a new craze, perfect for pubs, cafes and restaurants.
Inspiration: Croissant filled with fresh Maine Lobster and butter, Twelve, USA; Chicken mayo croissant, Geste Croissanterie, Canada; Prosciutto, peach slides, cream cheese and walnuts on handmade croissant dough danish, Cookies & Co, Germany.
2) On a roll
Sausage rolls are quite possibly where savoury pastries began. There's something nostalgic about a sausage roll, especially your standard bakery type. But, of course, we aren't talking about that; we're talking about the artisanal kind, with puff pastry, croissant dough, vegan fillings and flavoursome sausage meat. Whatever hospitality business you run, having a sausage roll on the menu is always a good idea.
Inspiration: Fennel seed sausage roll, Flor Bakery, UK; Veggie black bean sausage roll, Bostock Bakery, UK. Croissant filled with juicy homemade breakfast pork sausage with spring onions and black pepper, Breadbelly, USA.
3) Twist it
A classic pastry technique, the twist is loved for sweet and savoury pastries. It's a great way to expose more edges, which means more crispy bits! And of course, cheese is a common ingredient in this style of savoury pastry.
Inspiration: Bacon and caraway, Layla Bakery, London; Aleppo pepper and Asiago scroll, A.P. Bread, Australia.
4) Shape it up
Pretty much anything goes when it comes to shaping a pastry. The more twists and turns, the crispier the edges, the greater the flake, and the more inviting it is to the eye (and Instagram). Puff pastry, brioche, croissant, make a big impact and get creative with your dough shaping.
Inspiration: Layed brioche-based pastry waves, @foodbakery_s, France; Feuilletage butterfly, @chef_junholife; Brioche feuilletée, Bakery Kanel, Iran.
Savoury pastries are about going big on flavour and not holding back, it's about allowing yourself free creativity and enjoying how happy your products make people. Eastern influence is creeping in, but if that isn't your style, stick to what is; there is absolutely nothing wrong with a humble ham and cheese pastry. And if you are making delights like these and not using social media, what are you waiting for!