There are many ways to embrace vegan living. Yet one thing all vegans have in common is a plant-based diet avoiding all animal foods such as meat (including fish, shellfish and insects), dairy, eggs and honey
Although the vegan diet was defined early on by the The Vegan Society's beginnings in 1944, it was as late as 1949 before Leslie J Cross pointed out that the society lacked a definition of veganism. He suggested "[t]he principle of the emancipation of animals from exploitation by man". This is later clarified as "to seek an end to the use of animals by man for food, commodities, work, hunting, vivisection, and by all other uses involving exploitation of animal life by man".
As we look today at many different restaurants in the casual dining to fine dining sector, takeaway, fast food outlets and any outlet that's serves us food they have embraced the need and love for vegan and vegetarian foods, the customer base is growing, The number of vegans in Great Britain quadrupled between 2014 and 2018. There were 600,000 vegans in Great Britain in 2018, or 1.16% of the population; 276,000 (0.46%) in 2016; and 150,000 (0.25%) in 2014, The poll results suggest that over the next year, 2.2. million people will adopt veganism, increasing the vegan population to around 2.9 million.
Menus have changed, we no longer think as vegan food as an afterthought or 'just do up a little menu', dishes are now a major part of a menu, and dishes that are on a menu whether plant based or not should only be there because it tastes great, they need to earn that place, not because we need an option, food needs to taste great, full of flavour.
To sum up, we should aim to sell dishes because they taste great, it just happens some are plant based and are included for all to enjoy, food moves fast in development, the high streets and supermarkets have to be quick to the party, let's not get left behind in creating great food for our customers, we are only at the beginning of the plant based party.
Kindly contributed by Steve Midgely Consulting Development Chef, 30 years experience in fine dinning, creating fantastic experiences at Michelin star restaurants.
Note that serving suggestions and recipe images may not represent the actual dish.
Red Slaw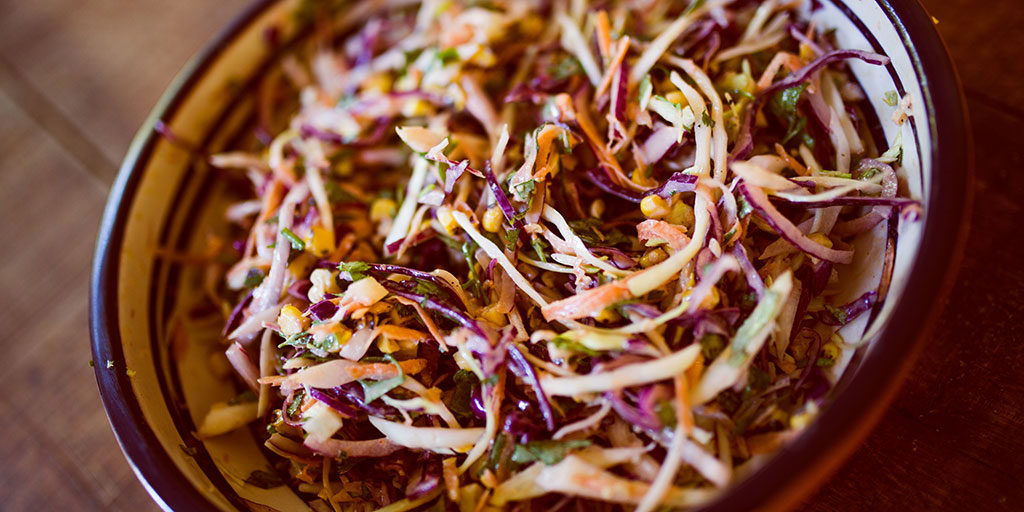 Ingredients
750g Red Cabbage
250g Carrot, Coarsely Grated
2x Red-Skinned Apple, Coarsely Grated
2x Bunch Spring Onions, Thinly Sliced
125ml Vegan Mayonnaise
75ml Wine Vinegar
75ml Olive Oil
Method
Using a large knife, shred the cabbage and place in a large bowl with the carrot, apple and spring onions.
Whisk together the mayonnaise, vinegar and oil. Season then toss with the salad. Serve.
Thai Street Salad
Ingredients
The Salad
500g Sliced cauliflower
100g Grated carrot
100g Sliced Red Onions
100g Sliced red pepper
75g Beansprouts
50g Chopped coriander
30g Sliced red chilli
The Dressing
100ml Olive oil
100ml Fresh lime juice
30g Minced Ginger
5g Black pepper
Method
The salad
In a large bowl, stir together the cauliflower, carrot, red pepper, Red onion, beansprouts, chili and coriander.
The dressing
In a small bowl, whisk together the olive oil, lime juice, ginger, and pepper.

Toss with the dressing. Serve.

Not Chicken Nuggets (Vegetarian)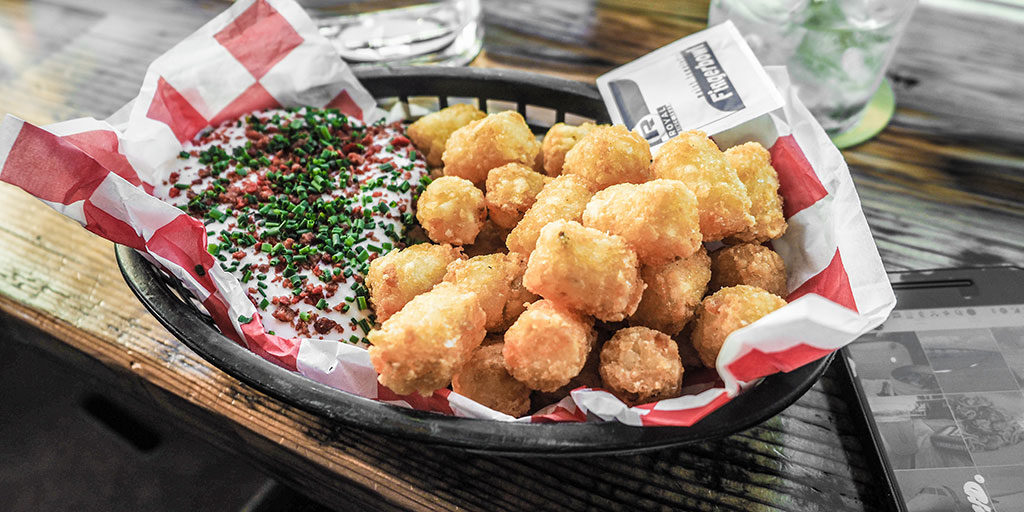 Ingredients
Method
Dice the halloumi in 2 cm and pané .
Cut burger buns in half and lightly toast the inside.
On the base of the bun add 20g BBQ sauce.
Deep fry the cheese until golden and warm in the middle
Top the sauce with the shredded lettuce, slice red onion and 3 pieces of fried Cheese, add 1 slice of Monterey Jack cheese
Place the top of the burger bun on the cheese and serve.