In this, Part 3 of our multi-part series, we share the latest trends in eating out. After all, the most important driving forces behind consumer behaviour in any sector are trends – and if caterers are to get ahead, they can do much worse than keeping on top of them.
Be sure not to miss the next parts by signing up to Fairway INSIDER:
PART 1: Trying somewhere new and going back
PART 2: Eating out changing behaviour
PART 3: Latest Trends in Eating Out
PART 4: Researching Where to Eat
PART 5: Pulling It All Together
Instigated by industry influencers, trends gather traction in the media and via word of mouth, until they become the latest must-have for any diner.
Eating out has become as much about enjoying the whole experience as it is about eating delicious food. These experiences are seen to add value to dining out, which is of utmost importance to diners on either end of the age spectrum. In fact, value for money is a key factor for those aged 18-25 (57%) and 65+ (67%).
Over time, the definition of value for money has changed. These days it doesn't necessarily mean cheap food or larger plates. For the modern diner, value includes the bigger picture, from the welcome they receive to how effectively and graciously their dietary requirements are catered for. Attention to detail is vital, especially in an era of customer reviews.
Where value is concerned, quality is also key. On average, those aged 35+ (a key demographic where spend is concerned) rate the importance of the quality of food at over 9 out of 10.
Eating Trends – Healthier Diets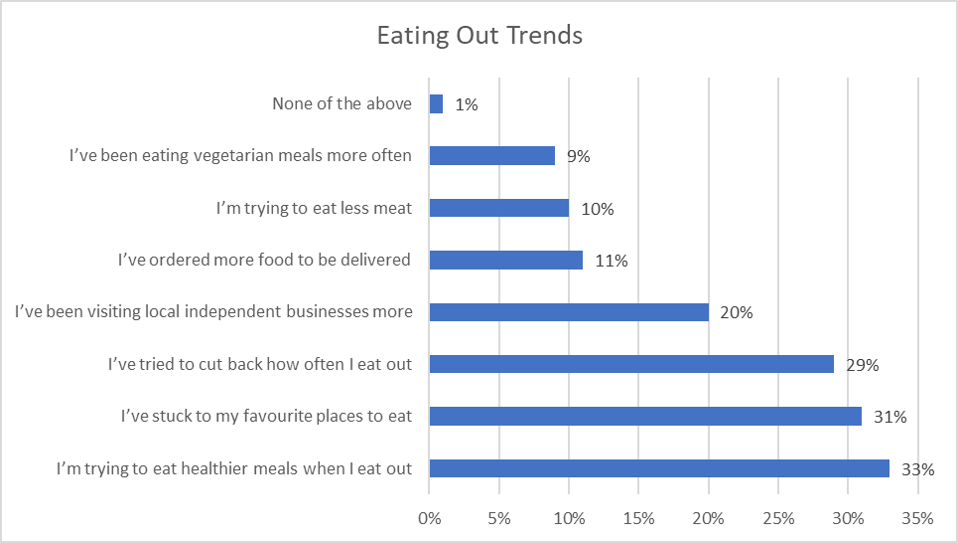 Trying to eat a healthier diet is a key driver of food choice – especially amongst the 35-44 age group, where 50% are actively trying to increase the number of healthy options they choose.
The same age group have also been trying to cut back on how often they eat out. In fact, in general, 29% of diners across all age groups say they are trying to cut down the amount they eat out, and 11% have ordered more food to be delivered over the past year. What does this tell us? A handful of things:
Healthier options are less available in restaurants
Eating out is seen as a 'cheat day' reward
Home cooking is still gaining in popularity
Restaurants are unable to cater for their dietary needs
Delivery has become much more convenient.
This last point is an interesting one, as it highlights the growing number of diners choosing to eat differently due to lifestyle changes.
Eating Trends – Lifestyle Choices
In total, 16% of all diners from 18 – 65+ years old say they are eating less meat than a year ago.
Breaking this down, 10% are actively eating fewer meat products, 9% have become vegetarian, and 1% are eating vegan meals more often. Interestingly, it's the older demographic who are eating more vegetarian meals based on their usual habits, with 17% of 55-64-year olds and 20% of 65+ year olds topping the poll.
For many diners, choosing to eat less meat is as much about environmental impact and health as it is about animal welfare. It is important to remember then, that diners who expect vegan and vegetarian options will also appreciate eco-friendly amendments to menus and are looking for ways to reduce their personal carbon footprint. This can be achieved by:
Sourcing local ingredients
Using biodegradable materials rather than plastics
Reducing food waste.
Of course, each of the above suggestions can be easily be promoted and used for promotional materials.
Eating Trends – Eat Local
One of the most positive trends for the local high street is the move towards eating local.
Our survey shows that 20% of diners are visiting local, independent businesses more often. A range of factors is driving this trend, from influencers such as critics and bloggers to personal lifestyle changes (as noted above in 'Eating Trends – Lifestyle Choices'.) How individual businesses can capitalise on this trend depends on the individual restaurant but including yourself in local events and publications is certainly a good start.
Learnings
In part three of our multi-part series, we've learned lots about the latest trends in eating out. Not surprisingly, value for money is as important as ever, with 57% of those aged 18 to 25 choosing an eatery based on its prices, and 67% of people in the 65+ bracket. The quality of the food was also key for those aged 35 and above, with people aged 35 to 44 also looking for healthier options when eating out.
While eating out is still a pastime enjoyed by many, 29% of diners (across all age groups) are cutting back, with a meal out being a 'cheat day' reward and home cooking gaining in popularity.
People are consuming much less meat, too, with 9% having recently gone vegetarian. With that in mind, plant-friendly menus can give restaurants a welcome boost.
With 20% of diners visiting independent restaurants over larger chains, smaller establishments can continue promoting their menus and events to further increase footfall.
What Next…
Don't forget to keep your eyes peeled for part four in our five-part series. In it, we'll look at how diniers research where to eat, so do sign up to to Fairway INSIDER to receive industry news, inspiration and insights tailored to caterers.
Why not browse our Fairway Assured own brand range of 600 products all carefully selected for foodservice.
---