Choosing where to dine has long since outgrown the traditional guidebook. While the Michelin Guide may still be relevant, most diners are choosing where they spend their hard-earned money by other means – and by using a range of platforms to piece together their plans.
In part four of our multi-part series on consumers' dining habits, we look at how people decide where to eat – and what influences the decision-making process.
Be sure not to miss the next parts by signing up to Fairway INSIDER:
PART 1: Trying somewhere new and going back
PART 2: Eating out changing behaviour
PART 3: Latest Trends in Eating Out
PART 4: Researching Where to Eat
PART 5: Pulling It All Together
This research contains a number of factors, and different age groups have different priorities. Caterers can help keep prospective customers walking through their doors by understanding what they expect, and learning what each demographic feels is vital to their dining experience.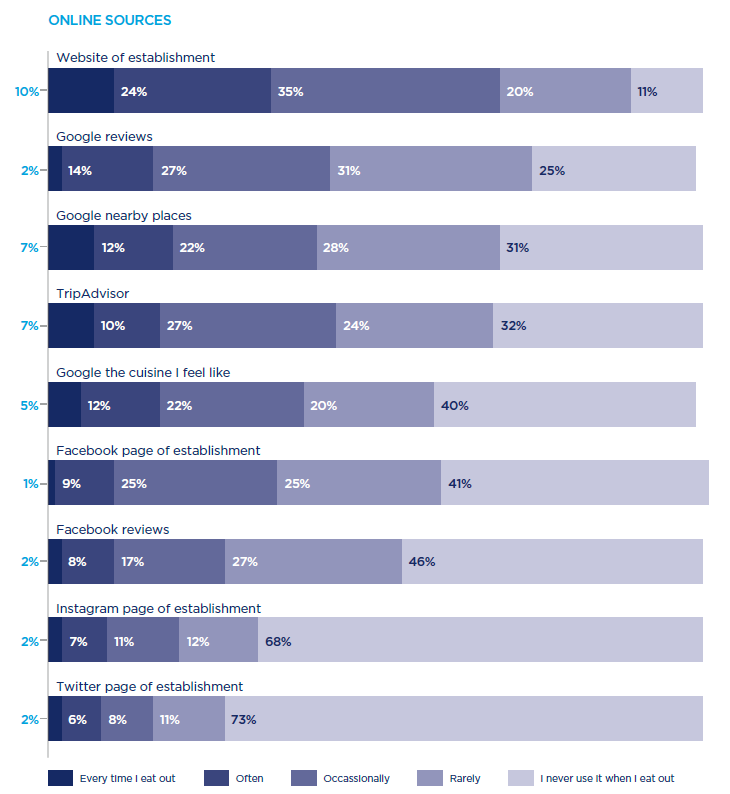 How Young Diners Choose A Restaurant
A total of 76% of 18-24-year olds aren't looking for restaurants they want to eat at. They're searching for the type of cuisine they feel like eating instead, putting cravings ahead of culture. The next natural step for this group is then to narrow down their options, based on online reviews and the information they can easily find about the food they've searched.
The process goes:
Decide on what to eat
Search for specific food
Narrow down options based on location
Narrow down options based on reviews or star ratings.
Surprisingly, younger diners are much more likely to remain loyal to their favourite restaurants. A sense of security and the ease of not having to work through the decision- making process means that they are least likely to have eaten somewhere for the first time the last time they ate out. A total of 18% of 18-24-year olds agreed that the last place they ate at was new to them, compared to 50% of those aged 24+.
Another big factor that affects how young diners choose where to eat is Instagram. A large proportion (40%) of 18 to 24-year-olds at least occasionally check an eatery's Instagram page before visiting.
Caterers, are you doing enough to ensure your online presence stretches to Instagram and reaches this important group?
How Older Diners Choose A Restaurant
Overall, those in the 65+ age group use fewer online sources to select an eatery. Younger diners, meanwhile, are more likely to visit a venue's website first, with Google or TripAdvisor being used as the next most common websites.
In this 'younger' group of diners:
70% go to the establishment's website
40% use Google reviews
40% Google nearby places
30% use TripAdvisor.
For aged 65+, 67% say value for money is what's important to them when choosing where to eat out, and 80% say their choices are not made by online recommendations.
Importantly, 60% of diners within this demographic choose to eat out at restaurants that are easy to get to.
Sharing Positive (and Negative!) Experiences
When customers have a positive experience at a restaurant, they're more likely to passively respond through recommendations. They're also far more likely to visit again. Those in the 25 to 34 age brackets are more likely to follow the establishment on social media (38%) or post to Instagram (29%).
Interestingly, those aged between 35 and 44 are most likely to leave a review on TripAdvisor (40%), with people in the 45 to 54 or 55 to 64 age group most likely to share a post on Facebook (29% and 33% respectively).
Of course, if diners have a negative experience at a restaurant, they generally don't return. They also tend to share their experience with friends or family, or complain to staff. Those in the 35 to 44 age group are the most inclined to post reviews to TripAdvisor (25%) or contact the venue on social media to complain (15%).
Eighteen to 35-year-olds under-index in saying they would never return to an establishment after a negative experience (41%).
Word of Mouth
It's easy to see why so many caterers are hung up on promoting themselves online, but the truth is, creating a quality dining experience is at the heart of customer attraction and retention.
Half of all diners say that their choice of where to eat was driven by a recommendation by a close friend or family member.
Friend or family recommendations are pivotal to encouraging consumers to try eating somewhere for the first time. These recommendations only come about from genuinely positive dining experiences – and it goes without saying that negative reviews from family and friends are extremely hard to come back from.
Seeing a friend or family member 'check in' on Facebook can count as a recommendation. Facebook check-ins are most popular amongst the 25-34 (29%) and 35-44 (30%) age groups, and 35-44s are also most likely to post pictures of their experience on Facebook (25%).
Learnings
As we come to the end of part four in our multi-part series, let's recap what we've learned.
Diners aren't looking for the kind of restaurants they'd like to eat at but are instead basing their decisions on the cuisine they'd prefer to tuck into. Online reviews, then, are key to helping them decide where they'll dine, with younger diners far more loyal to their favourite restaurant. Instagram is another place diners will check, further highlighting the importance of well-maintained social media channels.
It's vital your website is also fully optimised and easy to navigate, with consumers more likely to visit your site than anywhere else. Google and TripAdvisor come second and third, respectively, when it comes to where to check out an establishment online. That said, those in the 65+ group are more likely to place value for money above how tempting a restaurant looks online.
Restaurants have an opportunity to create a winning dining experience for their guests, with online reviews and recommendations important to future footfall. After all, when customers have a positive experience at a restaurant, they're more likely to passively respond through recommendations.
A negative experience, meanwhile, might mean the customer(s) doesn't return to the restaurant. On top of that, they may share their experience online, thereby turning prospective diners off, too.
Elsewhere, convenience is an important consideration for diners, as is a good word-of-mouth recommendation. A Facebook check-in can go some way to getting people through the door, which emphasises the importance of creating a good online presence for your venue.
What Next…
Don't forget to keep your eyes peeled for part four in our five-part series. In it, we'll look at how diniers research where to eat, so do sign up to to Fairway INSIDER to receive industry news, inspiration and insights tailored to caterers.
Why not browse our Fairway Assured own brand range of 600 products all carefully selected for foodservice.
---